Learn Together. Live Together.
A vocational training center and boarding school rises on recently purchased property near Bukavu in the Democratic Republic of the Congo (DRC), thanks to our generous donors. It will be a place where young men and women from all tribes can learn together while they live together, eventually working together on common goals and entrepreneurial enterprises.
The mission of Congo Peace, formerly New Hope Congo, is to break the vicious cycle of poverty and violence by fostering economic opportunity and stability, guided by Christ's reconciling love, in addition to providing emergency relief when needed.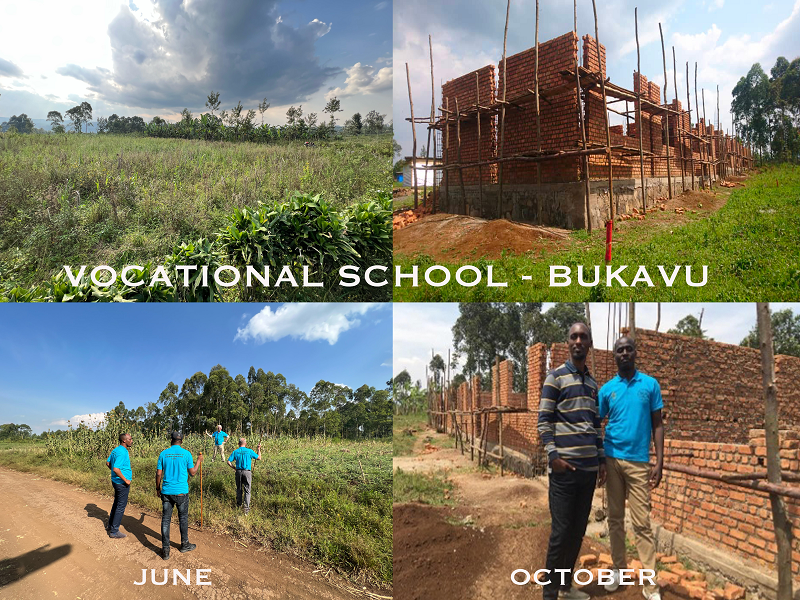 The school will expand over time with additional funding. The plan is to open the center and boarding school within a year as a two-story structure with 12 rooms – half for classrooms to provide training and the other half for living quarters for young men and women. Just as the community hall was built in Minembwe last year, the school is being built by members of all tribes working together. It is located further north in the city of Bukavu, the regional capitol, to take advantage of cost efficiencies, resource availability, and health and safety concerns.
Meanwhile in the Minembwe region, vocational classes have been provided to nearly 100 widows and men who will soon begin their entrepreneurial enterprises with newly gained skills. They learned how to launch and manage a small business. One of the first trainings was soapmaking, as soap is an expensive product in Minembwe. As funding grows, there are plans to grow classes to include valuable skills in hairdressing and sewing.
A four-person delegation from Bellevue WA visited both locations in the DRC in June 2022. In Bukavu, the team walked and blessed the ground to be purchased for the vocational training center and boarding school. In Minembwe, they visited the many people whose lives are being impacted by Congo Peace and dedicated their beautiful new community hall.
Thank you for your interest, prayer, volunteer support, and donations. We will continue to update you here on our progress on vocational training, reconciliation, and relief efforts in the province of South Kivu. We invite you to find out more about how Learning Together, Living Together bridges the decades-long tribal conflict.