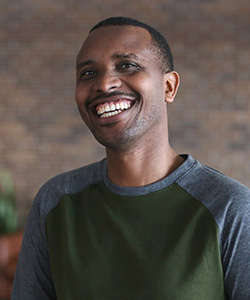 ALEXIS RUHUMURIZAMy name is Alexis Ruhumuriza and I was born in Bukavu, Democratic Republic of Congo. I moved to Rwanda in 1995. I have three brothers and 4 sisters. I am a Rwandan citizen. I attended Kigali institute of Management from 2007 to 2012 and received my degree in Financial Management.
I married my wife, Chantal, in 2011. She became my answer to prayer, the woman I asked God for. Since we married she has very much been involved in all my work. We have four children - two girls and two boys.
When I was a very young teen, I left East Congo for Rwanda and went to live with my uncle in Kigali and attended school there. I put the Congo out of my mind. I wanted to forget the violence, the conflict, the feeling of not belonging, and the fear that came from never knowing what the next day might bring.
When I was 17 years old I heard God's voice to take his gospel to the street children and orphans of Rwanda. As these relationships grew, the children responded to the Good News from our God. Then I founded the "Rwanda Faith Academy". The school now has 1506 children and 22 staff who teach these children and help them to know God.
While I was in Rwanda, I served as my Pastor's advisor and assistant in the Assemblies of God church. I was also in charge of the financial department of the church from 2010 to 2015. I was also Coordinator for the Arise and Shine Network, founded by Jean McAllister, from 2013 to 2015. Arise and Shine was a network of 8 non-profit organizations that worked on the same projects together. I came to know Jean when she moved to Rwanda to live and work as a missionary from BelPres. From the beginning, I was deeply moved and impressed by her heart. Then she became my mom and my advisor in most everything in my life. Jean connected me with Pastor Rich Leatherberry and BelPres in 2006. 
In August 2015, I was forced to leave Rwanda with my family and came to the USA as a refugee. I was very discouraged and didn't know what next steps to take. But God was with me in all the difficulties I faced in my new life in Seattle. Then he spoke to me about my next step and said in a clear voice, "Alexis, you will be a pastor." I learned that God never gives up his promise. Since then, I have become a member of BelPres and am deeply moved and impressed by Pastor Scott Dudley. He has blessed me very much in my new journey as Pastor of New Hope Revival to learn from the wonderful gift of love BelPres has. And the leadership at BelPres is also very excited to learn from New Hope Revival.
In 2018, I had another vision after having a conversation with fellow BelPres member Tim Cooke. We both wanted to help the elderly and their families in the community and to provide job opportunities to the underemployed allowing them to advance into the vision God has for their lives. Together we opened Agape InHome Care.
In 2018 the Congo connection that I had tried to put out of my mind when I left returned when renewed violence in East Congo became a daily reminder. My East African community at New Hope Revival was suffering . I was hearing firsthand accounts of violence from my sister who had lost her husband to illness and was now struggling to feed her five children. Villages were being burned, cattle stolen, people killed and women raped. That is when God called me to the Congo Peace ministry to bring justice and love to all people.
I believe nothing is impossible with God. My faith is greater than my fear.